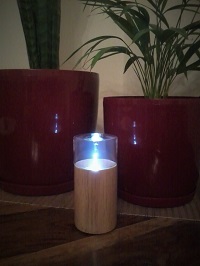 I recently received a package in the mail – it was my new toy and I can't wait to tell you about it – the Organic Aromas Nebulizing Diffuser (Just to clarify – not a toy at all, but a rather lovely essential oils diffuser.) Here's my review…
Overview
Model : The Redolence Nebulizing Diffuser.
Produced By / Available From : Organic Aromas.
(Also available from Amazon.)
Company Details : Global suppliers of aromatherapy products (nebulizing diffusers, accessories and essential oils.) Corporate administration is based in the U.S. and the production centre is in Taiwan. Members of the Alliance of International Aromatherapists (A.I.A.), the National Association for Holistic Aromatherapy (N.A.H.A.), the International Federation of Aromatherapists (I.F.A.) and the Canadian Federation of Aromatherapists (C.F.A.).
About the Diffuser
The Redolence Nebulizing Diffuser is a neat, sleek and stylish gadget which fits in discretely with the surroundings. As per specifications, the base is crafted from "100% natural, whole plantation hardwood and paired with elegant hand-blown pyrex glass." It's cylindrical in design and stands at around 6 inches in height and 3 inches in width (approx. 15 x 7.5 cm.)
Nebulizing essential oil diffusers are different to other types of diffusers as they don't use water, steam or heat. (These elements can change the composition of essential oil, thereby reducing the therapeutic benefits.) Instead, the nebulizer uses pressurised air to disperse the oil in a fine mist throughout your chosen area.
It's really easy to use. Just add a few drops of neat oil into the glass reservoir, pop the stopper in, plug in and switch on. (Please note that diffusing essential oils undiluted is different from applying neat to the skin – see Safe Healing With Essential Oils for further guidance.) There's a volume-style switch so you can turn from low to high depending on the size of the room or area you're in, and the intensity you desire. I've used the Redolence in an open-plan area – roughly 80 metres squared – but because the oil is pure and undiluted I favour the low setting and have been really pleased with the results – it's just right for me.
The Redolence has a cycle of 2 minutes on, 1 minute off and after 2 hours the diffuser will switch off. There is also a light which has a touch sensor. (The light will remain on after the diffuser has switched off, unless of course you turned the light off beforehand.) For me personally, upto 1 hour is great before bedtime. So far I've been using the Organic Aromas Signature Blend, a mix of 5 essential oils – elemi, clary sage, cajuput (or cajeput), Moroccan chamomile and bergamot. The aroma is gorgeous and quite unusual.
Here is my new nightly routine…
Nebulizer on, lights off, chilled music playing through headphones, sit in a relaxed / meditative state and unwind. It's bliss. Let me be really honest – the relaxation / meditation thing has been a part of my routine for some time but hasn't always worked. When I first started using the nebulizer, I couldn't believe what a difference it made. When I switch on the diffuser, I start switching off literally immediately. The signature blend is totally calming and the oil is dispersed perfectly.
Since I started building this website, I have so many things going on in my head that it usually takes a while to calm my brain down in the evenings. Most days I'll wake at 4 or 5 a.m. to jot things down that have popped into my thoughts throughout the night. It can be quite tiring. Since I started using the Redolence I've slept better than I have in the last 4 months. It's really made a difference and I'm going to start using it in the mornings as well, with an energising blend to get me off to a good start for the day. I love it!
Customer Service / Shipping / Packaging
As soon as my order was dispatched from Organic Aromas I received an email to let me know, along with tracking details for the package. Included in the email were video and blog links clearly explaining how to get started, easy cleaning and maintenance instructions, and information on how to activate the one-year warranty.
The package arrived on time and in full working order. I live on a Greek island and the postal system has let me down in the past. On this occasion however, the chosen local courier company did a great job (well done Elta!), and the padding / packaging was excellent. Included in the package was the wooden base, glass reservoir, glass stopper for the reservoir, power cord (the unit is suitable for 110v. or 220v.), 2 plastic droppers for cleaning and 1 glass dropper for using with the essential oil, a 5ml. sample of Organic Aromas Signature Blend, the manual and warranty, and some information on loyalty program discounts.
There are different shipping options – free worldwide delivery is available for orders above $30. There is a 7-day full refund policy and the free one-year warranty is inclusive of parts and service.
Additional Information
See the website (www.organicaromas.com) for some interesting articles on aromatherapy and the use of different essential oils, a weekly give away, details of a yearly scholarship initiative, and to apply for your free e-book "The Essentials on Essential Oils – Aromatherapy and More."
Summary
Would I recommend this product? Most definitely yes. It's all good, there's not one aspect of the Redolent Nebulizer that I would put under the "cons" list. Some may say that because the oils are added neat, it's more expensive because you use more. I disagree. For me personally, I use a few drops of oil for each evening session, for upto an hour – sometimes less as the blend does the job nicely, even covering a large area.
Would I recommend Organic Aromas? Again, most definitely yes. They have a good range of nebulizers and essential oils, the products are of high quality, the website is very customer focused and full of information – it's not just a sales platform. Customer service, packaging and shipping score exceptionally well. The company really seems to care about their customers. Thank you Organic Aromas.
Click here to visit the Organic Aromas website, or click here to place your order with Amazon.